Posted under:
Root Canal
Posted on: September 1, 2022
Gum Care Awareness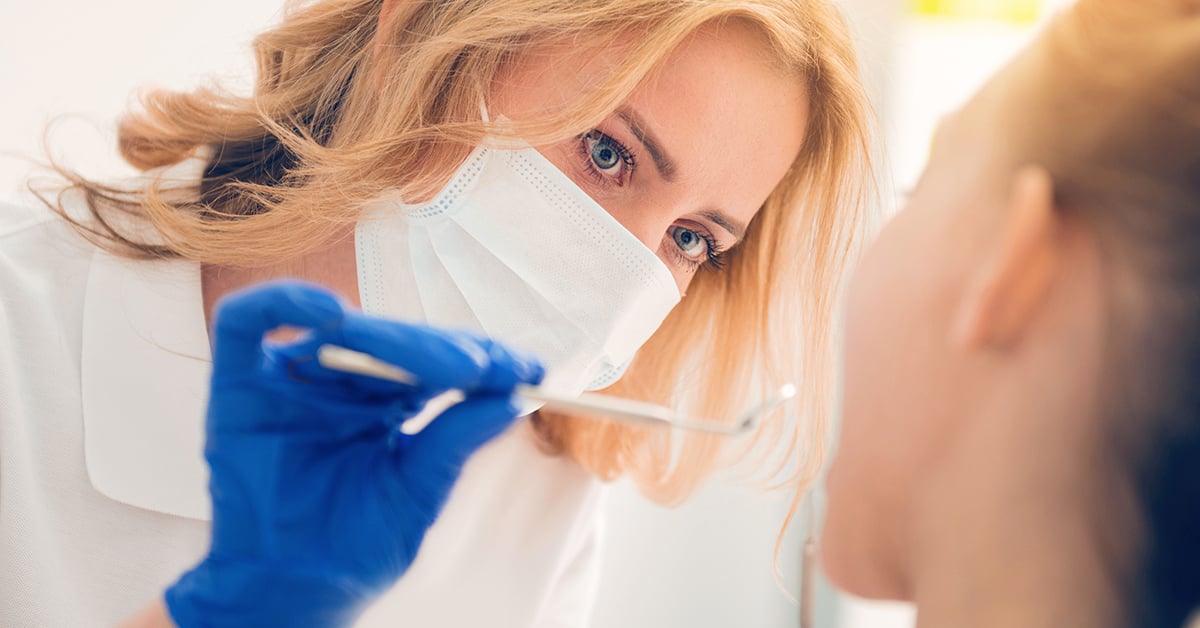 The Importance of Gum Health
Although you may be unaware of it, September is Gum Care Awareness Month. Many people don't realize the correlation between healthy gums and overall health, but the two are inextricably linked. Unhealthy gums lead to periodontal disease that can adversely impact your mouth as well as your entire body.
Periodontal disease starts as gingivitis and is caused by inflammation in the gum tissues. Sometimes, it begins because of an infection like a cavity, and the bacteria spread to the surrounding tissues and start inflammation and disease. When not treated in the early stage of gingivitis, periodontal disease can permanently damage your jawbone, causing facial distortion and all of your teeth to fall out. The inflammation can also travel throughout your body and adversely impact your major organs. Gum disease has been linked to an increase in cardiovascular disease, hypertension, stroke, dementia, and other serious diseases. It's also the primary cause of tooth loss in Americans who are over 35 years.
What's the Best Way to Care for My Gums in New Lenox?
Maintaining healthy gums is very simple and easy. It requires no fancy equipment or techniques, just dedication and discipline. For good gum health, you need the following:
A soft toothbrush that fits your mouth
Toothpaste
Dental floss
Mouthwash
You probably have all these, but you should make sure that they all carry the ADA Seal of Acceptance. If not, replace them with products that have been approved by the American Dental Association.
Brush and floss at least twice daily, although brushing and flossing after each meal or snack is ideal. If you can't brush and floss, rinse your mouth well with plain water until it's convenient to brush and floss. You should also use an antibacterial mouthwash at least once each day because the mouthwash can eliminate residual bacteria that might remain after brushing and flossing.
Be sure that one of your flossing and brushing times is just before bedtime, and don't consume anything but plain water afterward. Otherwise, you defeat the purpose of brushing and flossing, and bacteria will remain on your teeth all night and start to erode your tooth enamel.
An integral component of good gum health is regular dental checkups. Schedule at least an annual exam and cleaning with your dentist. Semi-annual is better. No matter the quality of your oral health regimen, your dentist can spot issues that you might miss.
What Signs Indicate Gum Disease?
If you have gum disease or the onset of gingivitis, you can observe any or all of the following seven symptoms, depending on the stage of gum disease:
Bad breath or an odd taste in your mouth
Bleeding when you brush or floss
Eroding gums
Loose teeth or abnormal gaps between your teeth
Irritation or infection at the base of your gums
Infection or pockets of pus between your teeth
Red, swollen, or sensitive gums
What Should I Do If I Have Gum Disease?
If you have any of the above symptoms, don't delay scheduling an appointment with your dentist. The earlier gum disease is treated, the greater the likelihood of success. When treated in its early stage of gingivitis, gum disease can be cured, and the damage can be reversed. However, if it progresses to periodontal disease, it can only be stopped. The damage done at that point is irreversible.
Don't delay in making an appointment with a dentist in New Lenox today. We're here to help when you need us.
What Are the Various Stages of Gum Disease?
There are three stages to gum disease, and they are:
Gingivitis: This is the first stage and is caused by a buildup of tartar which leads to gum inflammation. If you notice minor bleeding during your oral hygiene regimen, you may have gingivitis. It can be cured at this stage, so don't delay in seeking treatment, and ask your dentist for recommendations to prevent a recurrence.
Periodontitis: This is the second stage of gum disease and results from tartar building up on your teeth. At this point, treatments include antibiotics, scaling, and root planing. Although you'll have permanent damage at this point, you can prevent further damage by attending to it promptly.
Advanced Periodontitis: This is the third stage of gum disease, and by this time, you'll have destroyed some of your bone structure and may have lost teeth. You'll also have permanently damaged the tissues and ligaments that secure your teeth. At this point, reconstructive dentistry is the only solution to restore functionality to your gums and teeth.
These serious problems can be prevented by a regimen of good oral hygiene that includes regular dental visits.
How Do I Maintain Good Gum Care in New Lenox?
For the best oral hygiene in New Lenox, be sure to:
Brush at least twice daily, and don't forget to brush your tongue. One of the brushing times should be immediately before bedtime, and don't eat or drink anything except plain water afterward.
Floss at least once daily. If you floss only once each day, do it just before bedtime, and don't eat or drink anything but plain water after you floss.
Use an antibacterial mouthwash at least once daily.
Get regular dental checkups and cleanings at least once annually.
Get screened for oral cancer during your dental checkup.
Good oral hygiene is essential for good overall health, so be sure to make your oral hygiene health as important as your physical health.
Poor oral hygiene has been linked to serious diseases such as:
Cancer
Cardiovascular disease
Dementia
Diabetes
Hypertension
Stroke
It's incredible that gum disease can do so much damage to the body, but research has affirmed the correlation. It's much easier and simpler to maintain a daily regimen of good oral hygiene than it is to cope with these severe and life-threatening diseases.
If you have gum disease, or if you don't and want to keep it that way, then contact our office for an appointment with one of our New Lenox dentists. We'd love to help you in your battle against gum disease, so don't ignore the early symptoms of its presence. Call Forever Family Dental of New Lenox at (815) 410-1206 today to schedule an appointment.