Posted under:
Root Canal
Posted on: November 21, 2022
What is Oral Cancer?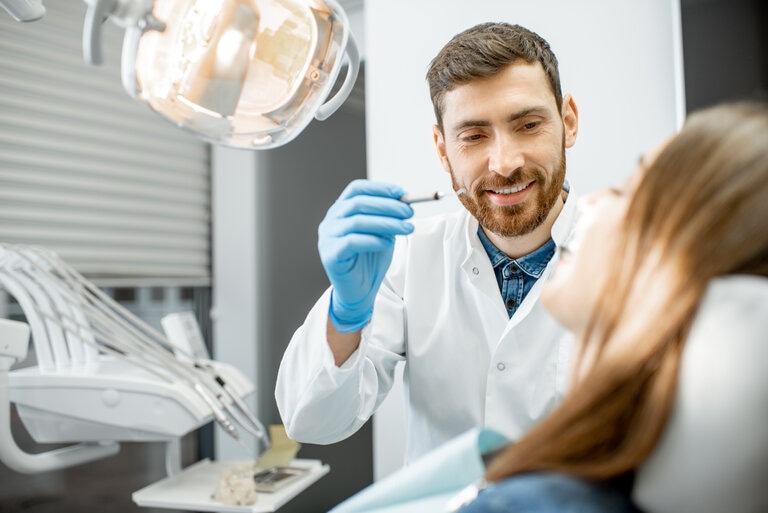 Did you know that November is Mouth Cancer Action Month? As a part of this month, we've decided to help educate you on how to detect, treat and prevent mouth (or oral) cancer. In addition to this, we will also be giving you information on how our practice is able to help you keep your smile healthy. Oral cancer is a form of cancer that is found anywhere in the mouth or the back of the throat. It can happen on or under the tongue, as well as in the tissues of the mouth and gums. This type of cancer can be quite dangerous, as it is hard to detect without the trained eye of a dentist. It also spreads rapidly throughout the body. As a part of routine dental examinations and cleanings, dental hygienists and dentists will look for any signs or abnormalities present that may indicate that a patient has oral cancer. This makes it very important that you see your dentist in New Lenox routinely.
Schedule an appointment with a dentist in New Lenox today to ensure that your smile stays healthy!
What Kind of Symptoms Indicate Oral Cancer?
While oral cancer in its earliest forms is difficult to find without the help of a dentist, there are signs that you can look out for that can point towards the disease. Knowing what you're looking for will assist your dentist in finding oral cancer when it is easiest to treat. Common symptoms include:
1. Ulcers or sores that do not heal within three weeks
2. Red and white patches in the mouth
3. Lumps or swellings in the mouth, head, and neck area
4. Growths or patches of scar-like tissues
If you are in doubt about a symptom or issue that you are having with your oral health, it's always a good idea to see your dentist about it. It's always better to be safe than sorry. Remember, your dentist is an essential part of your healthcare team. You need his or her help to keep your smile as healthy as can be!
Can You Tell Me the Causes of Oral Cancer?
While there are some risk factors that are entirely out of your control (such as age), approximately 90% of oral cancer diagnoses can be linked directly to a person's lifestyle choices. Smoking is one lifestyle choice that has been proven to increase your risk of developing oral cancer up to 10 times. In fact, two out of every three cases of oral cancer have been linked with smoking. Heavy alcohol use is another lifestyle choice that contributes to oral cancer. When you combine smoking with heavy alcohol use, your risk triples. Using chewing tobacco and smokeless tobacco also raise your risk of oral cancer. This is because these products contain toxic ingredients that have been directly linked to cancer. Unhealthy diets lacking in the proper vitamins and minerals and sun exposure can also be linked to the development of oral or mouth cancer.
Can You Tell Me About How Oral Cancer is Diagnosed?
Oral cancer spreads rapidly. That makes early detection an essential tool when it comes to successful treatment. Most dentists conduct oral cancer screenings during routine dental check-ups. The screening itself is quick and painless. During an oral cancer screening, your dentist will look at your mouth, lips, cheeks, face, and neck for any symptoms of oral cancer. He or she may also feel around for any signs of lumps on your face, neck and jawline.
How is Oral Cancer Treated?
When your general dentist finds indications of oral cancer, he or she will most likely refer you to a specialist. Oral cancer treatment usually includes several specialists that include your general dentist, an oral or maxillofacial surgeon and an oncologist. If your cancer was detected in its earliest stages, the chances of having successful treatment are high. Treatment for oral cancer in its earlier stages usually includes radiation therapy and/or surgery. If your cancer is more advanced, you may also need to undergo radiation therapy and chemotherapy. Targeted therapy is a newer type of treatment method that uses medication or other substances to correctly find and attack cancer cells.
The exact course of treatment you will undergo depends on your overall health, the area where the cancer was found, the type and size of any tumors present and whether the cancer has moved to other parts of your body. Your oral healthcare team will work together to ensure that you receive the exact treatment you need to successfully treat your oral cancer.
Schedule an appointment with a dentist in New Lenox today to ensure that your smile stays healthy!
What Do I Need to Know About Preventing Oral Cancer?
Fortunately, there are things that you can do to help prevent oral cancer. To reduce your risk, live a healthy lifestyle, receive regular dental checkups, and look for signs early on so that it can be treated quickly and successfully. In addition to visiting your dentist consistently, you should maintain a balanced diet that contains vitamins, minerals, and omega-3-rich foods. This is good for your overall physical health, as well as for your oral health.
While it is frightening to learn that you have oral cancer, early detection makes it more likely that your treatment will be successful. See your dentist regularly, consume a balanced diet and avoid smoking and heavy alcohol use to help prevent oral cancer. Remember, oral cancer can happen to anyone, so it's important that you know what signs you need to look out for in between your routine visits to your dentist. If you observe any type of change, contact your dentist as soon as possible to arrange for an oral cancer screening. Don't delay getting the type of oral health assistance that you need.
Schedule an appointment with a dentist in New Lenox today to ensure that your smile stays healthy!