If you're like most new parents, you may find yourself wondering, "Where can I find a children's dentist near me?" Begin your child's journey towards a lifetime of excellent oral health by scheduling an appointment with our children's dentist in New Lenox.
What to Know About Children's Dentistry
Dentistry for kids is a broad term that includes the prevention and treatment of dental problems that affect children from birth to adolescence. Our children's dentist has received specialized training to meet the unique dental and behavioral needs of children, and can provide a variety of services, ranging from cavity repair, fluoride treatment, care for dental injuries, and teaching children how to care for their teeth and gums at home.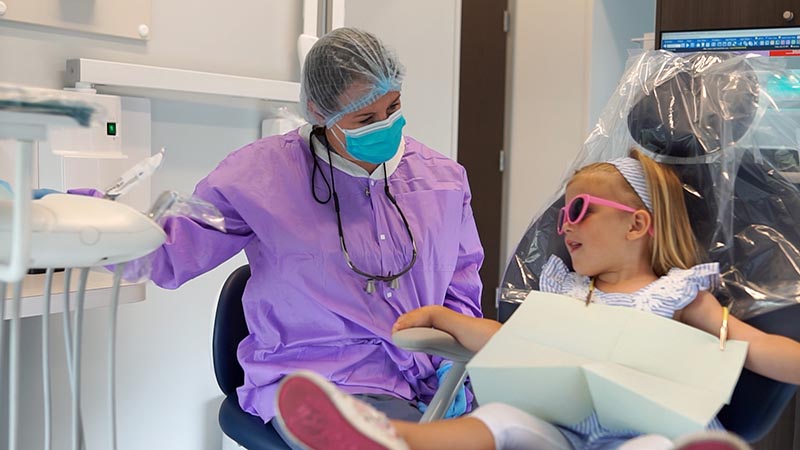 When to Take Your Child to the Dentist
According to the American Academy of Pediatric Dentistry, the first visit to a children's dentist should occur when children have their first baby teeth coming in. In general, this first visit should occur by the time your child reaches one year old. Cavities can develop as soon as your child's baby teeth come in. By scheduling regular dental visits, children can maintain healthy smiles for a lifetime.
Taso and Bella's experience
What Should I Expect When My Child Visits the Dentist?
A visit to our children's dentist in New Lenox consists of an examination of the teeth, gums, and jaw to make sure there aren't any problems and everything is developing normally. The child's teeth will be checked for cavities, and the teeth will be cleaned and polished to remove plaque and bacteria. In some cases, older children may need x-rays to check for tooth decay or other dental problems. Small children typically do not require dental x-rays.
Examples of Dental Services for Children
Dental services for children include preventive and restorative treatment options. Dentistry for children includes the following services:
Teeth cleaning for children: Professional cleanings are designed to prevent tooth decay and maintain oral health. During a professional cleaning, plaque and tartar is gently removed from the tooth's surface, and the dentist or hygienist will also clean and polish teeth.
Fluoride: Fluoride treatments work as a natural way to fight cavities and strengthen tooth enamel. Topical fluoride treatments are applied to the tooth's surface.
Dental sealants: Dental sealants prevent cavities from affecting the back teeth by acting as a protective layer that prevents food particles and bacteria from sticking to teeth. A non-toxic layer of plastic or other dental material is painted onto the surface of the back teeth.
Fillings: Fillings can treat tooth decay on either baby teeth or permanent teeth. After the dentist has carefully removed the decayed tooth portion, a tooth-colored filling or amalgam filling is used to repair the tooth.
Pediatric crowns: Pediatric crowns may be necessary for children who have a large cavity that can't be repaired with an amalgam or tooth-colored filling. During treatment a pediatric crown is placed to cap the tooth.
Mouthguards: For children who regularly play sports such as hockey or football, the American Dental Association recommends wearing a mouthguard. This device helps to protect the teeth and mouth and can prevent teeth from becoming knocked out, broken, or chipped.
When Do Baby Teeth Start to Develop?
It's common for most children to develop their first baby teeth around six months old, but baby teeth can appear at any time from four months old to one year old. As baby teeth grow in, they'll usually appear in pairs, with the two bottom front teeth appearing first and the two upper teeth developing soon after. Typically around three years of age, most children will have 20 of their primary teeth. However, every baby is different when it comes to tooth development, and you shouldn't be alarmed if your child's teeth develop differently compared to these averages. If you have questions about the development of your baby's teeth, please call our office to make an appointment with our children's dentist.
When Do Baby Teeth Start to Fall Out?
By the age of six, most children will start to lose their baby teeth. This pattern of tooth loss usually follows a "first in, first out" pattern, meaning that your child's two central bottom teeth will fall out first, followed by their two upper front teeth. You can expect your child to have their adult teeth by the time they're 14 years old. Schedule your appointment today to learn more about kid's dental care.
Why Do Children Get Toothaches?
Just like adults, toothaches in children can occur for many reasons, such as experiencing pain from emerging teeth, having food stuck between teeth, tooth decay, and chipped or cracked teeth. If your child has a persistent toothache, don't hesitate to call our office as soon as possible. Our team will help you schedule an appointment with our kid's dentist.