Does your smile say you have a friendly, self-confident personality? If not, consider cosmetic dental work to improve your appearance and let your true personality shine through. We see patients undergo smile makeovers and become inspired by their new look. They seek out new friends and generally become more socially and professionally secure.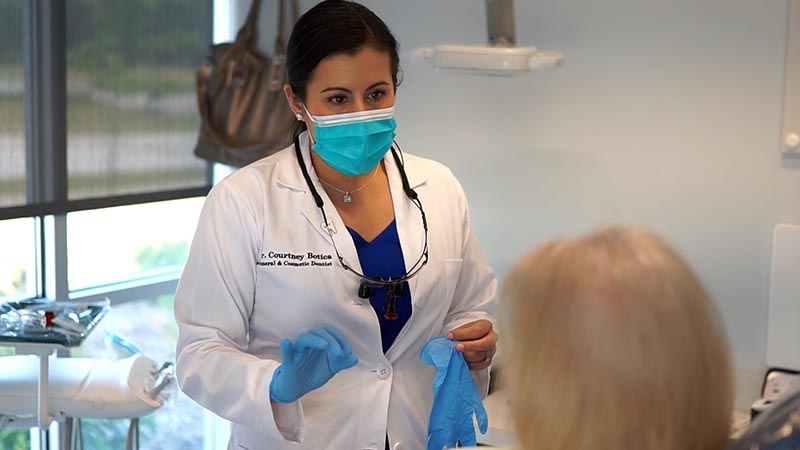 There are many reasons why you should consider cosmetic dental care if you want to look younger. Face it, just about everyone would like to look younger. As we get older, our teeth become yellow, we chip one or two on hard foods, and occasionally lose one to a dental disease. Tooth wear also ages you. It's hard to avoid since years of chewing wear down teeth making them appear shorter, especially your front teeth. You'll show less teeth when you smile, but there are easy cosmetic fixes for this problem. Missing teeth also age you. Many people will have lost at least one tooth by older age and even though people may not see a toothless gap in your mouth, the missing tooth will age you. You'll start losing jawbone structure and may even develop a saggy, wrinkled look depending on how many teeth you are missing. If you feel uncomfortable with your teeth, let us restore your natural, vibrant smile. Your smile age shouldn't make you look older than your chronological age.
What Are Cosmetic Dental Treatments?
Cosmetic dentistry refers to dental treatments and procedures which restore your teeth's appearance and in some cases, their functionality as well. While traditional dentistry focuses on preserving and restoring your oral health, a cosmetic dentist will add an artistic touch to restorations meant to repair broken, chipped or missing teeth. If you have a gap in your smile from a missing tooth, you'll want your new tooth to seamlessly blend in with your existing teeth so it looks like you were born with a naturally beautiful smile. This is why people who have a family dentist they are happy with seek out a cosmetic dentist when they need cosmetic dental care if it's not provided by their general dentist.
What Are the Most Popular Cosmetic Dentistry Procedures?
There are many cosmetic procedures which can help give you a captivating smile. Teeth whitening is the most popular cosmetic procedure as it's affordable, painless and shows dramatic results in about an hour. We can also combine several of these services as part of a custom smile makeover plan. Whichever you choose, you'll first come into our office for a consultation and to discuss your options with your dentist. Cosmetic dentistry services we offer include:
Will Dental Insurance Pay My Cosmetic Dentistry Cost?
Very few dental insurance policies cover purely cosmetic procedures because cosmetic procedures tend to be elective. If a procedure also restores your ability to chew, such as a crown which repairs a broken tooth and the appearance of that tooth, you may have partial coverage. Please review your policy carefully or speak to your plan administrator at your job for coverage details. If you book a consultation, your dentist can go over your payment options with you.
Where Can I Find Cosmetic Dentistry in New Lenox?
If the thought of a dazzling new smile has you questioning where you can find cosmetic dentistry near me, please call our office and request a consultation. During your initial consultation, our dentist will ask about your smile goals and suggest options to help you reach them. You'll learn about various procedures, how long they take to complete, and your expected results.
We strive to offer the highest quality care to our patients. Our dentists are experienced in providing cosmetic dentistry services and will be able to make suggestions and answer all of your questions about your elected procedures. Our knowledgeable, welcoming staff will ensure you have a pleasant visit to our office. Our dentists also have great chair-side manners. 
What Is the Normal Fee for Cosmetic Dentistry?
Fees for cosmetic dentistry vary widely even among the same treatments for patients at our cosmetic dental office. Some patients may only need one treatment or procedure to meet their smile goals while others need a complete smile makeover. Naturally, a simple teeth bleaching treatment costs less than a full set of veneers. We strive to offer affordable cosmetic dentistry without sacrificing the quality of care you deserve. Your dentist will suggest the most appropriate procedure or procedures which will help you stay within your budget and still achieve your smile goals.
If you are interested in a better looking smile, please call our cosmetic dental office and request an appointment with our experienced cosmetic dentist. We're always glad to meet new patients and help them discover their dream smile. Our patients are our best advertisement because they are always walking around with a dazzling smile.